Cooking and Catering
My interest in cooking came while I was still a student at Swinburne [Film and TV]. Having left and needing to fend for myself food wise, I started getting interested in food and the many different styles and presentations - Partly through the necessity to prevent those who could not cook from getting anywhere near the kitchen! My specialty at the time was a Shepard's Pie that could feed a number of people and not break the bank. It was also a good dish to serve in a shared household of poor students.
An interest in Chinese cuisine came from a restaurant opposite Swinburne College of Technology [now Swinburne University] called "The Rice Bowl". It was here that I learned what a good special fried rice should contain [and how it should be prepared], along side a number of other Chinese dishes that became favourites, such as Prawn Cutlets and BBQ Pork Spare Ribs. Having grown up in a very 'traditional' Australian food environment [meat and three veg anyone?], the revelation of cuisines from other countries sparked an interest in dining and restaurants. I did get taken to "Pellagrini's in Bourk St Melbourne once and that was quite a thrill, although I was too young to understand in full the true culture of an Italian cuisine. This would have to wait until later when I discovered Lygon St in Carlton.
Through a friend who had a father who had spent quite some time in India and came back with a number of curry recipes, I started to get an interest in curries. He had taken on a number of his fathers recipes and entertained many a student party with his own various curry's. This led to curry 'bake offs' where we would try and outdo each other in the style and type of curry presented. Currys were also a great dish for sharing [and shared housholds!], so I ws quick to improve my curry skills and try out the results on unsuspecting members of the household.
I have since broadened my outlook to 'Asian' cooking [including Thai, Indonesian and other styles], and Curry's of all descriptions.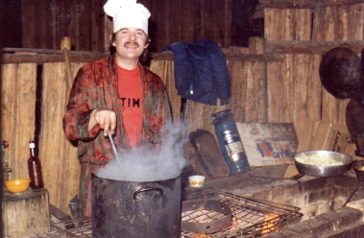 Cooking an 8 course chinese dinner on an outdoor fire for 60 people at the "Noojee Outdoor Education Centre".
Catering Experience
Due to my long association with Lord Somers Camp and Powerhouse, I managed to get experience in catering for large groups [up to 250] at Lord Somers Camp. This involved some 750 meals a day accross two sittings for Breakfast, Lunch and Dinner. Somewhat smaller [120] suppers were also prepared on some nights to accompany late night entertainments for staff. This involved spit roasting [25Kg of beef!], Chinese [stir fries done on a single wok burner within the staff entertainment area], and even a Hunge [meats buried in earth pit].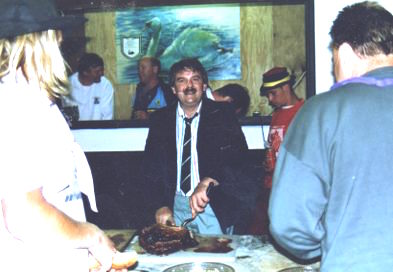 Serving some of the 20Kg topside roast [4 x 5Kg pieces]
More intimate catering for groups of up to 10 people over many years gave a good 'rounding off' along side the more commercial operations.
It is from this that I have started to write down some of the most popular dishes with the intention of developing this further in to a cook book or something similar.
Some examples from this are listed here.
Quantities can be multiplied for larger service if required.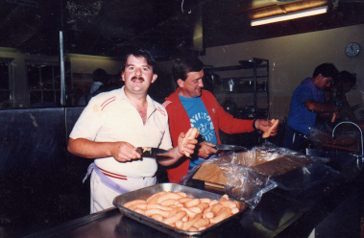 Prepping 350 Sausages for dinner at Lord Somers Camp
Hunge [Roasting Pit] Cooked whole fish
The Fish is prepared in Aluminium Foil wrapped and then baked in a roasting pit [see preparing the roasting pit]. The roasting pit can be used to prepare fish, pork and beef as well as vegetables.
1 Whole Fish 2Kg
Aluminium Foil
Garlic
Ginger
Olive Oil
Preparing the Roasting Pit
Preparation is the key to all the various techniques outlined in this book. A Roasting pit is dug in a cleared area which is safe from fire. The pit should be approx 30cm deep and is filled with wood. The wood is burnt down until only coals remain [or use charcoal for quicker cooking start].
Place items to be cooked on top of some green leaves placed on top of the coals.
Cover with sand/soil and leave for
Fish 2Kg – 1 Hour
Meat 2 Kg – 11/2 hours
Prawns with Avocado and Bok Choy
Recipe for 4 serves [Entrée]
16 prawns [4 each]
2 x Bok Choy [Cut stem from leaves]
½ Onion [finely chopped]
½ Capsicum [finely chopped
1 x Mushroom [finely chopped]
½ stick of celery [finely chopped]
2 x tablespoons of unsalted cashew nuts
Marinade for prawns
Put prawns in to medium bowl and add:-
1 Table spoon olive oil
1 teaspoon crushed garlic
½ teaspoon crushed ginger
1 tablespoon light soy sauce
1 tablespoon sweet chilli sauce
2 x tablespoons of cashew nuts [crushed]
Squeeze half of lemon
Few drips of sesame oil
Mix around to ensure proper coating of prawns in mixture.
Marinate for minimum of 1 hour
Assembly
Chop avocado in to chunks and put aside.
Using a hot pan, add approx 1 tablespoon of olive oil and then a few grams of butter.
Add onions, capsicum, celery and fry for a few mins.
Add mushroom and Bok Choy stems
Add drained prawns, [saving marinade to add before just before removing from pan] and Bok Choy leaves. Add remaining marinade when prawns turn red.
Plating up
Put avocado on plate [along with anything else deemed appropriate]
Separate prawns from pan and place 4 per plate.
Place the rest of the mixture over the avocado [mixing it all in with the remainder of any pan juices] and arrange on plate.
Some other dishes I'm currently working on....
Baked Leatherjacket with Avocado salad
Fried Calamari
Sausage Rolls
Vanilla Slices
Spring Rolls
Baked Whole Fish Vietnamese style with noodles and seasonal vegetables.
Scallops Mornay
Crumbed Scallops
Oysters Mornay
Oysters Natural
Tuna Mornay
Roast Rack of T bone with Garlic Mushroom and Onion Sauce.
Lobster Mornay with Garden Salad
Lobster Natural with Garden Salad
Gormet Sandwiches:
Ham and Cheese
Chicken and Avocado [Specialty]
Curried Egg
Smiked Salmon and Egg with lettuce, Chives, Basil and Mayo.
Chicken Schnitzel Parmagiana with Special tomato [Passata] Sauce
I'll be updating this web page as I perfect the above!!
---
Published by Art Media Services
Last Updated 26th November 2019