Documentary Film - "On Eyre"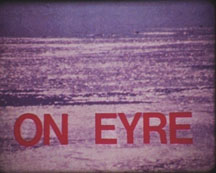 In 1975 an expedition to Lake Eyre South was undertaken after unseasonal rainfalls over the past few years had filled the lake to a depth of around two meters.
This trip was primarily for the purposes of an Amateur Radio 'mobile' operation to transmit 'Maritime Mobile" from a catamaran which had been taken to the lake along with a number of licenced radio amateurs for a week long exploritory look at this rare phenominum.
A documentary film was produced [25min/16mm/colour] about the trip
This included sailing on the lake [which is normally dry!] and making radio contact with other amateur radio operators around the world. This footage is of interest due to the many fillings of Lake Eyre since and the associated flooding of the inland area following a rather severe drought. Up until 1975 the lake had only filled once or twice [since white settlement].
The radio operators in the expedition contacted other amateurs from the camp on the shore of the lake as well as from the catamaran which had been launced into the lake for the duraytion of the expedition. One day saw a group circumnavigate the whole of Lake Eyre south, returning well in to the night.
The expedition was led by Bill Rice VK3ABP [Dec]. Bill also financed the major part of the film.
Others were:
Tim Robinson - VK3YBP [Camera/Editing]
Roly Roper [sound]
For information about the DVD of this expedition please contact me using the Query Form.
Include your location for postage calculation.
On Eyre Screen Shots

| | | |
| --- | --- | --- |
| | Lake Eyre South from sand dune | Coastline looking north |
| | | |
---
---
Published by Art Media Services
Last Updated 26th November 2019