Professional History
2017
There has been a resurgence of interest in Vynal records for a number of reasons and my experience in this area is now being utilised by a number of people who want someone who has had direct experience in the production process. Further down this page you will find some references to some of this experience.
Computer security continues to be a major problem in many organisations and I have found that my experience over many years of major help in identifying problems in computer networks and security 'holes' that may compromise an organisations computer operations. The use of 'cloud' services, while providing solutions to some organisational issues can also lead to a loss of control over company data, and also to security breaches.
Many organisations have 'dumbed down' there own internal IT units in the false belief that they can save money, only to find that their networks fail to follow proper security procedures. My consultancy work in this area has identified many issues which have not been addressed by the 'outsourcing' of IT skills and in the longer term have caused damange to brands and organisational structure.
2010
I am continuing to do consulting work in the IT field with IT systems and management and am interested in any proposals or contracts to do with network design. Security has become a big issue with computer networks and I am constantly surprised at how many computer systems are left open to compromise both internally and externally. My experience with running large computer networks ensures correct measures are taken in regards to the security of network systems.
I have also been putting in work lately writing a few scripts for documentary films, based on some historical footage that has come in to my possession over the years. There is hope that one of these might get up in the future for some funding however this is a way off yet.
DVD versions of "The Making of Rubbery Figures" and "On Eyre" have now been completed and are available for viewing and/or purchase. Please contact me directly if you are interested.
Digitisation of a number of 16mm films from 1929-1939 is currently underway. Shotlists are being made and reserch is taking place to determine the source of these films. I am also in the process of digitising a lot of 16mm material I have shot over the years and am in the process of compiling a show reel.
2007 - The University of Melbourne- VCAM
In 2007 The Victorian College of the Arts joined the University as a full Faculty and underwent further changes to its structure and systems. The name was changed to "The Victorian College of the Arts and Music" [VCAM]. This was a very problematic move which satisfied no-one and caused major problems for the staff and students.
The IT team had increased to 3 and was directly involved in support of staff and students. Much of the former VCA structure moved forward on joining the University however financial systems had to be changed to that used by the University. Major network upgrades were implemented including a dual-redundant fibre link to the University of Melbourne [VERN - Victorian Educational Regional Network]. This link was capable of 1Gb/sec and fed in to the Universities network backbone.
I left the VCAM at the end of 2009 completing some 12 years there and before that some 20 years [in total] at the University of Melbourne.
1996 - Victorian College of the Arts [VCA]
By now [1996] I had become IT Manger at the VCA and was now responsible for the computers network and support for the entire system. For a number of years it was run as a one man show but eventually additional staff were appointed as the IT needs grew. What started off as a small network with 20 computers grew in to a large network with some 200 computers over some 10 years.
I remember having to explain to people what a great thing this web was and how it was going to make major differences to how we went about things, but it took a long tome to convince people that there just might be something out there.
The VCA had already affiliated with the University of Melbourne when I joined it and so this meant that the VCA was also part of the Universities network. This involved a number of high level network management things and gave me an excellent view of how large computer networks run [and the problems that come with it!].
I also maintained my connection with the former Swinburne FTV school, which had moved in to its new building on the VCA campus in South Melbourne the year before I started there in 1995.
Some video documentaries done during this time were:
Feast: Doco on celebration of VCA 21st birthday.
Paul Dainty workshops: Video of dramatic pieces performed under a grant from the Paul Dainty Foundation. Video is of the final performances of the results from two days of workshopping around various themes.
Save VCA: Details the march on Parliament House by VCA students protesting the funding cutbacks to the VCA and demanding that additional funding be made available to support its viability.
While IT formed my main income, I still maintained an interest in Video and sound recording. I was impressed when the Documentary unit at the VCA film school purchased a Sony VX1000 digital camera. So impressed that I finally sold by 16mm Bolex and bought one myself. This has since been sold and I have now moved in to High Definition with a Sony HDR-FX1E. Coupled with Final Cut Pro I now have the ability to produce HD content and have a number of projects underway in this field.
I found that my experience with production most useful when designing the primary teaching lab in the new student computing centre at the VCA. This was designed to deliver software programs such as Final Cut Pro, the Adobe CS Suite [Photoshop, In-Design etc.], and a number of other arts based software as required for the teaching program. There was a remote content server and remote rendering available via the network, along with storage and backup facilities for projects. This area became one of the most used areas of the VCA and extended to offerings of short courses, especially in the media production area. It was interesting to see just how much technology was being used in the arts by the students studying there at the time. This was across all disciplines. The School of Art had its own computer lab with a similar set up.
Not aware of many computer labs that are able to offer the following software for use by the various teaching programs and students
Music. this is representative of much of the day to day activities within the VCA computing area.
Encore, Sibelius
Pre-History
Started off my film experience while still at School at the tender age of around 14. Had access to 16mm Bolex H16 camera via the school film society and started making films. At the same time I was doing 8mm wedding films which provided a grounding in the use of film and editing. Two of the films I made were entered in to an Inter-School Film Competition run by the [then] "Lumier" magazine. I managed to get 2nd Prize for the film "Gold Fever" [16mm B&W, 8mins] and a special mention for the film "Sketches" [16mm B&W, 5mins].
As projectionist for the CGS film society I managed to get a comprehensive grounding in classic films of the time. The film society screened much European and Russian classic cinema such as Knife in Water, Rules of the Game, Potemkin, Alexander Nevsky. One marathon effort saw the entire Gorky Trilogy screen over one sunday [a total of around seven hours screen time in three sessions].
I also was a member of the school electronics club and managed to get my amateur radio licence in my final year there [1969]. I was also a member of the Youth Radio Scheme and built up an interest in electronics, electronic construction. Built my own radio transmitter and antennas after gaining license.
By the time I entered Swinburne Film and TV course in 1970 I already had a good grounding in the making and appreciation of films. I spent the first year of the course acting as lighting cameraman for a number of films and by this time had purchased my own Bolex H16 reflex camera.
First major live recording was at the Aquarius festival of the Arts at Nimbin in 1971. Got a van from GMH, recording equipment from AWA. Have the only recordings of music from this festival. [Dollar Brand - African Piano, Blerta - NZ band], Bengali Bauls. Also managed to get some recordings of "Music Jams" at the Nimbin Town Hall, which consisted of those who actually turned up for the gig!
Participated in the student reviews of the time in varying roles, primarily in the technical area [lighting/sound] and moving in to direction by the final revue.
The Swinburne Reviews in order of production were:
1) 1970 - "Swallow a Camel" [lighting design and operation],
2) 1971 - "Halcyon - Expressions on White" [Technical director - some film production]
3) 1972 - "Revue Chroam" - [Technical Direction, Film production]
4) 1973 - "Twas a dark and Stormy Night" - Director. Also acted as lighting camera for a number of review films. Produced "Up the Garden Path with the Lowland Brothers" [16mm B&W, 8 mins. [Dir: Nigel Buesst].
Worked part time for the Swinburne Audio-Visual Unit and assisted with the set up of the equipment pictured below. Eventually took over from the original student designers to complete the project [as they had left Swinburne by this time].
| | |
| --- | --- |
| Custom built mixing desk used at Swinburne for the Revues | Alongside was a 1/4" tape recorder - "Byer 77" |
| | |
Lord Somers Camp
I attended my first "Big Camp" at the Lord Somers Camp in 1971 in the Technical Department running a closed circuit radio station [3RS - Radio Somers]. The following year I was made head of the department as Technical Officer - a position I held for some 10 years. During that time the radio area was rebuilt, removing the old valve equipment and replacing the old mixer with one I designed myself.
On Air Mixing Console designed for Radio Somers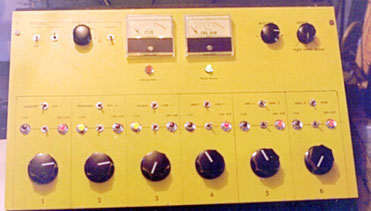 From this formed a long term community service relationship with the organisation and its ideals of youth leadership. I became a life member of the organisation and still remain active today.
I did number of plays with the "Power House Players" in various roles but primarily of lighting design and Technical Director [Dons Party, Macbeth, Picnic on the Battlefield, The Real Inspector Hound, Waiting for Godot, amongst others]. Received the Powerhouse Dramatic Club service award for my work with this group.
Also started up the "Power House Disco" - based on the old Power House Dances, modernised in to a disco format. Built most of the equipment to run it including the mixing desk and bi-amped folded W bins with special horn mid speakers.Partly an experiment in serving non-alcoholic beverages, It did not last long however as it served no alcohol and the competition from the newer clubs with late trading and alcohol put an end to it.
1974 - left Swinburne before completing FTV course for work in industry. Formed business "Art Media Services". Started full time work at Melbourne State College - Music Department, as Technician and recording engineer. Designed and built 8 track recording studio and mixing desk.
The music department was heavily in to Electronic Music. Had an Electronic Music Lab connected to main studio control room. Synthesisers in use at the time were the VCS3 [as used by Pink Floyd on "Dark Side of the Moon"!], Mini Moog, Roland 100 series and various others.
Two VCS-3 synthesisers formed the basis of the "Electronic Music Studio" in the Department of Music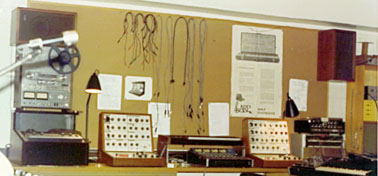 Produced a number of "Demo's" for various bands - there are some sound bites available of these if you are interested. Mark Gillespie - "Going Out of my Brain", Danny Bourne, Trade Union Choir [produced over 500 Cassettes], Folk Group "Shennanigans" - series of dance cassettes very popular in schools.
Due to my experience in the field I was able to design and build a 20x4 mixing desk for use in the recording studio as well as all cabling and rack mounts. Some other specialist equipment was also built for the studio complex.
| | |
| --- | --- |
| Custom designed and built mixing desk | Studio Distribution Rack |
| | |
Continued to develop interest in music and the performing arts. Also spent some time with new Music - notably at the Clifton Hill Music Centre. Worked with new music composers such as Warren Burt and Ron Nagorka. Participated in Ron Nagaorka's recording of "Sangtus" [keyboards and synthesiser - processing live digeridoo sounds amongst others].- live in the church of ??? - LP released on the ? label.
During time at MCAE recorded a number of quite different music and musicians.
Er Hu and Yang Quin musicians from China, The Brussels Saxophone Quartet, Jack Brymer Master Class [Principal Clarinetist - London Symphony Orchestra], Symphonic Wind Ensemble [80 pieces], MCAE Big Band [Produced LP recording and record]. The original mixer I built had now been replaced with a Tascam series M16 24x8 mixing desk and 8 track recorder.
Recording "MCAE Big Band" LP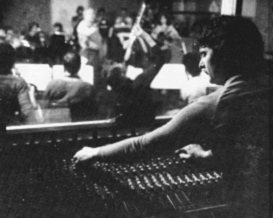 1975 - Expedition to Lake Eyre
Produced a 25min/16mm/colour documentary film "On Eyre".
This covers the trip to the lake, sailing on the lake, [which is normally dry!] and making radio contact with other amateur radio operators around the world. This footage is now of interest due to the recent filling of Lake Eyre again and the associated flooding of the inland area following a rather severe drought.
| | | |
| --- | --- | --- |
| | Screen Shots from "On-Eyre" | |
| | | |
Click here for more details about the DVD of this expedition.
1978 - Parkville Campus Radio
Participated in one of the first test FM broadcasts with a consortium set up through the University of Melbourne. "Parkville Campus Radio" - 3OZZ-FM [92.1Mhz] had an experimental license to broadcast for one week in August 1978?and the studio was located in the Union building. I designed and built the studio around a Phillips broadcast mixer, some turntables and two reel to reel tape recorders. While the on-air presentations were rather dubious, the studio held up for the duration with no technical problems.
Studio set up for 3OZZ-FM test broadcast and Testing the Equipment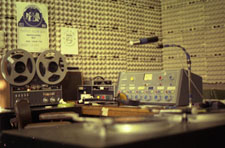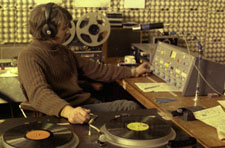 In 1980 the Music dept acquired an APPLE 11 computer and moved in to digital synthesis. Computer was used for creating sounds and also for ear training exercises [Melodic Perception]. A number of other music programs were also tried out but this was the pre-MIDI era and it was difficult to connect anything together [if at all!!].
Acquired DX7 [and later DX11] synthesiser to bring in the MIDI age and move the analog synthesis studio to digital.
Parallel to this doing B.Ed degree [Sociology/Media Studies, specialising in Film and Video Production] and following that post Graduate diploma with the aim of working towards a Masters degree [Possibly in the Media Studies area].
Having started in computing music, the interest in this technology developed and I started to move further in to IT and the support involved with both students and staff. I was suddenly in demand as people wanted to extend their own interest in computing and the advantages that came with it. Over time my involvement with IT extended to the whole department and then to the entire faculty.
Extensive experience was gained in the use of high level computer systems and the delivery of services such as student records and accounting. Originally using a DEC VAX 11 computer, this was replaced by various systems and computers that were in use at the time [See computing list for details].
Rubbery Figures
Around 1985 I started doing a number of freelance jobs for Peter Nicholson - [Rubbery Figures - ABC-TV]. This involved designing and building a number of electronic devices to assist with the production of the series. As I was doing my B.Ed degree at the time and needed an idea for my Media project, I decided to do a "Making of Rubbery Figures" video. This has now become quite a historical document and has had exerpts played on the ABC as part of other programs [such as "George Negus Tonight"
Click on pic for more details of the Video
Industrial Documentaries:
A number of industrial documentaries, including one for "Readymix" - detailing how the recycling of material was managed at some of their disposal sites and the methods used to achieve a clean up.
---
---
Published by Art Media Services
Last Updated 26th November 2019